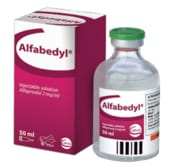 Alfaprostol - Solution for injection
Controlling the physiological upheavals of peripartum has become a key success factor in swine production. The use of prostaglandins has become the norm before and after farrowing. The remaining issue was to gain total control over key zootechnical success criteria.
Alfabedyl® contains Alfaprostol, a synthetic prostaglandin analogue which has a pronounced luteolytic effect. The rapid regression of the corpus luteum triggers farrowing.