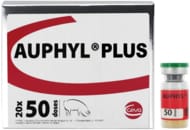 Attenuated live vaccine with specific adjuvant for eradication of Aujeszky's Disease (Pseudorabies).
Auphyl® Plus is a live vaccine that contains the MNC+/10a strain to protect against Aujeszky's disease (or pseudo rabies), following a long tradition of discovery and innovation in Aujeszky's disease protection from Ceva Phylaxia.
The selected vaccine strain allows distinguishing vaccinated animals from infected animal with respecting the protective ability of the virus, controlling at the same time its virulence for a full safety. The protection conferred by the strain is amplified in intensity and time length by a specific oil-in-water adjuvant. This ultimate efficiency provides a full protection against the disease; it allows furthermore to design, for each farm, a protocol combining vaccination, infection detection and animal renewal that leads to a full eradication of Aujeszky's disease in a farm.