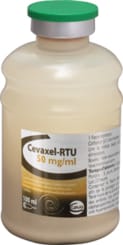 Suspension for injection for cattle and pigs
Cevaxel-RTU is an injectable suspension based on ceftiofur (third generation cephalosporin) with bactericidal properties, for the treatment of affections caused by susceptible organisms, and more particularly respiratory diseases in swine.
Thanks Ceva's expertise, Cevaxel-RTU formulation has been developed to easy injection and is presented in its specific CLAS® container, patented by Ceva Animal Health. Cevaxel-RTU is a unique product that provides at the same time efficiency as well as a good comfort for the pig and for the farmer.