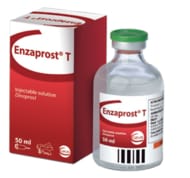 Dinoprost - Solution for injection
Controlling the physiological upheavals of peripartum has become a key success factor in swine production. The use of prostaglandins has become the norm before and after farrowing. The remaining issue was to gain total control over key zootechnical success criteria.
Enzaprost® contains Dinoprost, a natural prostaglandin. The uteronic effect of this natural prostaglandin is fully beneficial for the post-partum use. It induces the evacuation of the uterus and accelerates uterus involution, therefore explaining the therapeutical effect of Dinoprost for MMA syndrome.